How to use my home inventory from Quicken on 64 bit Windows?
Attic Manager is able to automatically load all three different Intuit Quicken Home Inventory Manager formats: MDF, QHI and IDB. IDB and QHI formats can be imported directly without any additional software. If you have a MDF file, you need to either install the free Microsoft SQL Server Express Edition or run Attic Manager on computer where Quicken Home Inventory is installed.
To load the QHIM database in Attic Manager, select "Database" and then "Import data from QHI" from the Attic Manager's main menu: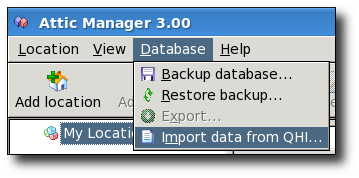 ...soon you'll have your entire database of items imported, which you can now use on any version of Windows including Windows Vista, Windows 7, Windows 8, Windows 10, including both 32bit and 64bit versions.

Attic Manager Home Inventory